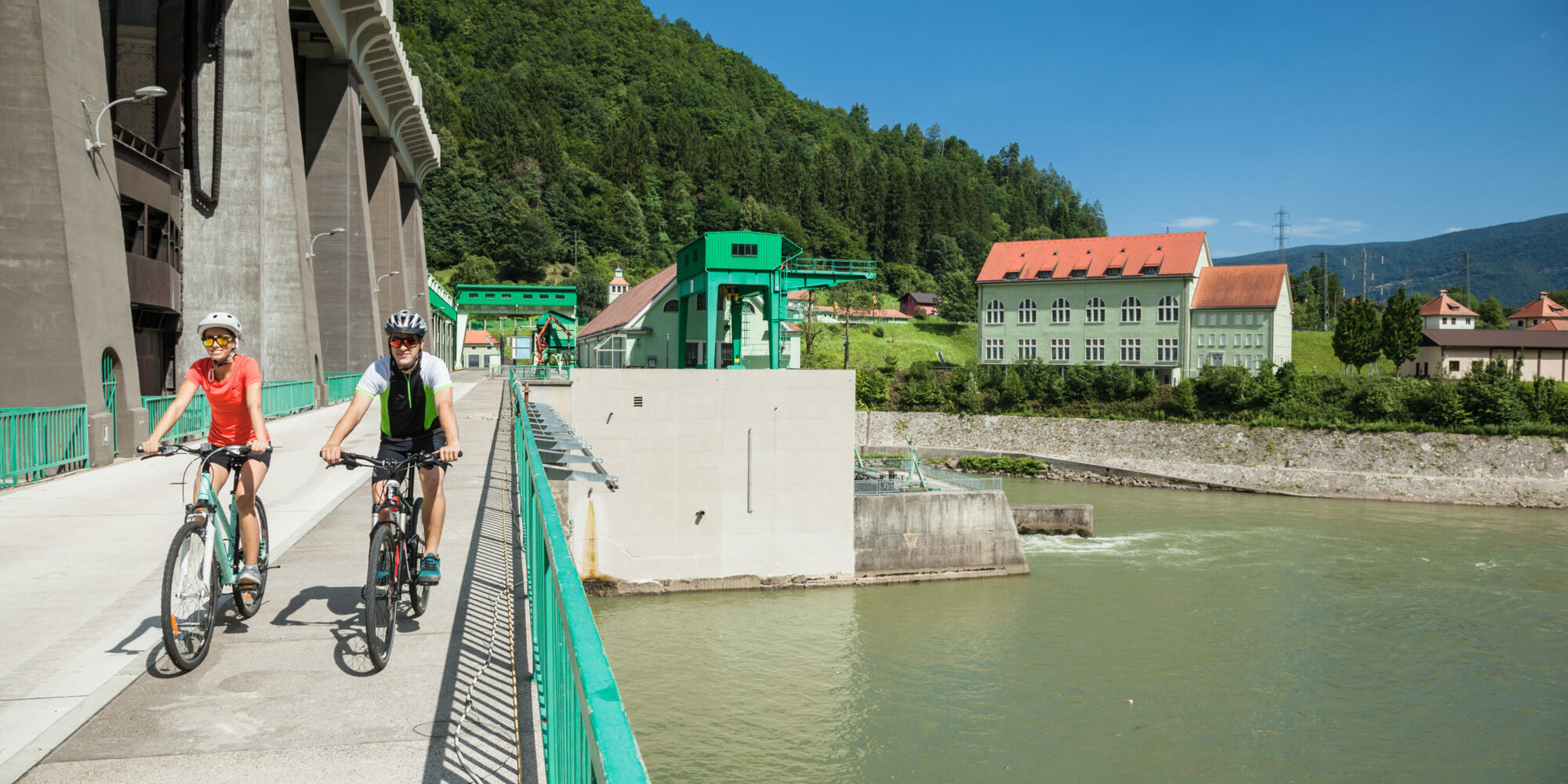 Percentage of asphalt:
80%

Our route takes us along the right bank of the river Drava, rising above it in certain places, allowing a nice view of its flow through the Drava Valley, all the way to Podvelka, which lies on the Pohorje-side of the Drava River by the mouth of the Velka Stream. Here, the route turns right, where we face a difficult climb of about 6 km to Janževski vrh, Lehen, and Lovrec na Pohorju, in the heart of Pohorje spruce forests.
Lovrenc na Pohorju hides quite a few wonderful spots, including an authentic farmstead – Ladejenkovo. From Lovrenc, we continue our route through Puščava and Činžat to the village Fala, where we once again cycle right along Drava, crossing the hydroelectric power plant Fala in Selnica ob Dravi (HE Fala is the oldest hydroelectric power plant on the river Drava in this part of Europe), and then continue along the Apple Trail to Ruše.
Ruše are categorised in the pre-alpine foothills region. We know from historical sources that Ruše existed as a settlement in the Celtic and Illyrian period, i.e. around 400 B.C., as indicated by rich archaeological diggings. Nowadays, Ruše are becoming a true little cycling paradise. Our route then takes us through Bezena, Bistrica ob Dravi, Laznica, and Limbuš, past Maribor Island, a unique river island in Slovenia, and Maribor Lake, formed with the damming of the river Drava for the construction of the Maribor Island hydroelectric power plant. We soon catch sight of the second largest Slovenian city – Maribor.
Maribor is nested along the river Drava, surrounded by the green forests of Pohorje and picturesque wine-growing hills. It touches the wonderful foothills of the easternmost part of Alps and the diverse Slovenian Hills, and is connected by river with the Drava Field flatland. Maribor is the European Capital of Culture 2012, Timber-rafting City 2012, European City of Sports 2018, and the place of the oldest grapevine in the world, a global sight that attracts numerous tourists to the Old Vine House from the farthest corners of the world. The city is renowned for exceptional sports, cultural, and wine and culinary events.